Standby consumption: Reduce pump control
Adrian Maurer
·
Last updated: 14.06.2023
Worth knowing
·
4 min. reading duration
This is how a pump manages to reduce consumption by 97 %. Are you curious? Then this article is worthwhile for you.
How does an automatic switch control the pump?
Task of the pump
Pumps for liquids have the task of building up a given pressure and thus ensuring a certain flow rate when required. The flow rate is set as soon as a valve or a tapping point is opened.
What the automatic switch does
Since the pump is not supposed to start continuously, but only when needed, an automatic switch is used. It monitors pressure and flow and switches the pump on and off as required.
The challenge of standby energy
This monitoring function requires energy - even when the pump is not running. Conventional automatic switchgear requires a continuous power consumption of up to 15 watts. Day and night, i.e. 365 days or more precisely 8,760 hours a year.
This standby consumption can account for a large part of the energy required for rainwater harvesting.
Solution with the support of the university
This is where we come in: Together with the Technical University of Central Hesse, we took a close look at the electrical control board of an existing automatic switch and completely redesigned it. The result is an extremely efficient circuit design that reduces the standby consumption to less than 0.2 watts.
Production of the Zeta 02 circuit breaker
This newly designed circuit board is now our standard in all ZETA 02 automatic switchers from WISY. It is manufactured in the immediate vicinity of our own production facility in Hitzkirchen and integrated by us into the housing of our long-standing European supplier.
This is what the new automatic switch saves
Compared to the power consumption of conventional automatic switchers, this increase in efficiency means a 97% reduction in power consumption. The power consumption at the end of the year is also reduced to the same extent, by about 128 kilowatt hours.
Depending on the energy mix, the electricity savings mean a reduction in greenhouse gas emissions of about 70 kg of carbon dioxide(CO₂) per circuit breaker per year.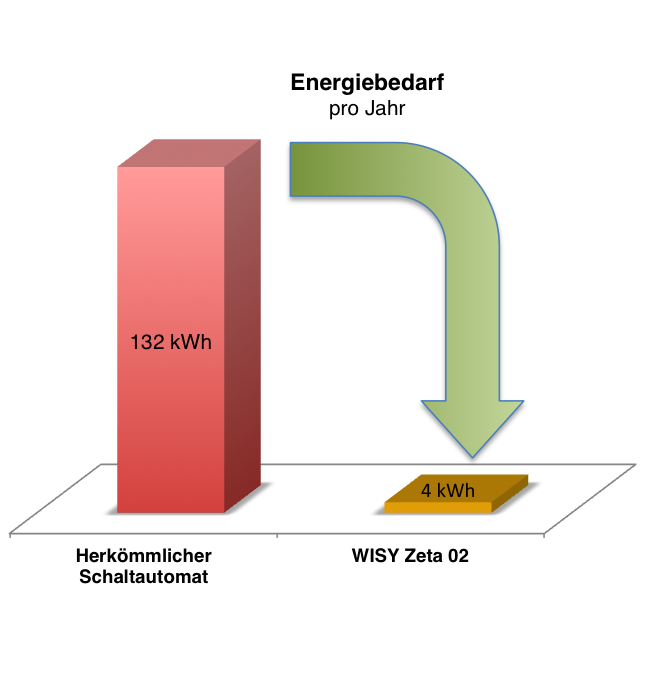 Energy efficiency as standard
This increase in efficiency does not only benefit the users of a new ZETA 02 automatic control unit. Of course, all WISY rainwater works and separation stations are equipped with the new pump control. This saves our customers money and reduces power consumption, as well as the associated CO₂ emissions.