Cisterns for the use of rainwater
Paul Ahlers
·
Last updated: 15.08.2023
Irrigation methods
·
13 min. reading duration
In order to use your rainwater and save valuable drinking water, you need a suitable storage place to store the collected rainwater. A simple rainwater barrel is often used for watering the garden with a watering can.
In order to use your rainwater and save valuable drinking water, you need a suitable storage place to store the collected rainwater. A simple rainwater barrel is often used for watering the garden with a watering can.
However, if you need a lot of rainwater for watering the garden or also want to use your rainwater for flushing the toilet, the washing machine or for cleaning in the house, your needs are higher and a larger rainwater tank is required. These tanks are also called cisterns and are the heart of any rainwater harvesting system.
In the following sections you will learn:
What two functions a rainwater cistern fulfils.
How important correct sizing is
How it relates to the maintenance and cleaning of your rainwater cistern
Two functions of your rainwater cistern: storage and cleaning
In addition to pure storage, the cistern in your garden also fulfils another important function: cleaning the collected rainwater. But how exactly does this work? When it starts to rain, the rainwater falls onto the collection surface - in most cases your house roof. From here, it now runs via the rain gutter into the downpipes, which in turn are connected to the rainwater tank installed underground.
Before the rainwater reaches the cistern, however, coarse debris such as leaves, small stones or branches is removed by a rainwater filter. Regardless of how fine your chosen filter is, the smallest dirt particles or pollen will still get into the rainwater tank. But don't worry: your cistern will now take care of this.
Cleaning thanks to sedimentation
Have you ever been bothered by coffee grounds at the bottom of your cup? Then you have already become acquainted with sedimentation. This is a process in which small suspended particles in liquids are deposited at the bottom by gravity over time and form a sediment or sediment.
This is exactly what takes place in your cistern and ensures that remaining small dirt particles are deposited at the bottom of the rainwater tank. What remains is purified, clean rainwater in the upper layers, just waiting to be used by you.
So you probably already realise how important it is for this sedimentation or your stored rainwater to pay attention to two things: On the one hand, let the rainwater run slowly into the cistern by calming the inlet so as not to disturb this process and not to stir up sediment that has already formed again. On the other hand, always take the rainwater from the upper and thus cleanest layers of the rainwater tank and not from the bottom of the cistern.
Cleaning thanks to overflow
Now that your cistern has taken care of the small dirt particles in the rainwater, the question remains what happens to the pollen and other light particles. Their weight is so low that they float on the water surface and therefore cannot settle. If they are not removed, a so-called barrier layer can form on the water surface in the long term, which impairs the all-important oxygen exchange between the surrounding air and the collected rainwater.
This can have a negative impact on the quality of the stored rainwater and, in the worst case, the water may even tip you over due to the lack of oxygen. But don't worry, the solution to this problem lies in two simple measures: The correct dimensioning of your rainwater tank in combination with the use of an overflow siphon so that the tank can overflow at regular intervals.
A correctly sized rainwater cistern overflows regularly
Wondering why you should "waste" painstakingly collected and filtered rainwater by letting your rainwater tank overflow? The answer: To prevent the harmful barrier layer.
To do this, simply imagine a bathtub into which you pour water and throw a handful of confetti.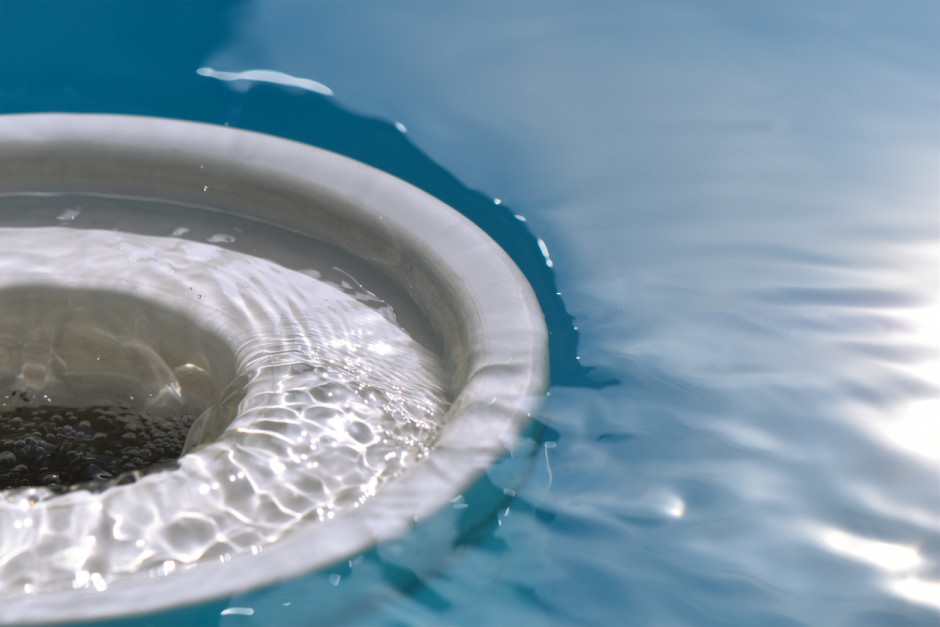 Water flows over an overflow, taking suspended matter floating on the surface with it. This prevents the formation of a barrier layer on the water.
If you were to vary the water level in your bathtub only by alternately pulling the plug and adding water, the confetti would always remain on the surface of the water. If you keep adding confetti, eventually the entire surface will be covered - a barrier layer will have formed.
What can you do to get rid of this? You simply turn the tap on full and wait until the bathtub overflows.
When the water reaches the overflow drain at the top of the bathtub, the confetti is automatically drained away and the barrier disappears.
It is the same in your rainwater tank, where the confetti is the pollen, and the overflow drain of the bathtub is the overflow siphon of your rainwater system.
So you can quickly see why the correct dimensioning of your rainwater tank is so important for the quality of your rainwater.
Maintenance and cleaning of your rainwater cistern
Now you must have been startled for a moment by the section on sedimentation and overflow:
"Sediment in my rainwater tank is inevitable and light particles float on the water surface? Don't I then have to constantly clean my cistern?".
Fortunately, we can relieve you of this worry - because the upstream rainwater filter does a great job. If you have chosen a rainwater fine filter, only particles smaller than about a quarter of a millimetre will enter your rainwater cistern.
This is quite small and it will take a few years for a significant sediment layer to build up in your rainwater tank. The overflow siphon also does a good job, so that the light particles are always transported away when the rainwater tank overflows.
Only after approx. 10-15 years of operation can it become necessary that you:
Empty your cistern
clean the inner surfaces of the storage tank
remove the sediment
Provided, of course, that you have set up your rainwater utilisation system properly.
So you can see how worthwhile it is to find out in advance about the correct design of your rainwater utilisation system and to pay attention to the use of all important components. Each individual component fulfils a fundamental purpose, and only when they work together will you be able to operate your rainwater utilisation system in the long term without worry and without much effort.
This is good for you, the environment and your wallet - but more on this in the next section: For whom is a rainwater cistern worthwhile?
For whom is a cistern worthwhile?
Does the following situation sound familiar? You open a letter from your drinking water supplier and, just like the year before, the prices have increased once again. You are not alone in this:

According to the online platform Statista 2020, the prices for drinking water in Germany have risen continuously since 1993. Of course, we get a lot for our money, because drinking water is one of the safest and most intensively controlled foodstuffs in this country, for which we have to pay relatively little in an international comparison - and of course we should be grateful for that.

Rainwater flowing from a gutter Nevertheless, a price increase is never pleasant, and if your mood was not already dampened enough by it, you now find out on top of everything else: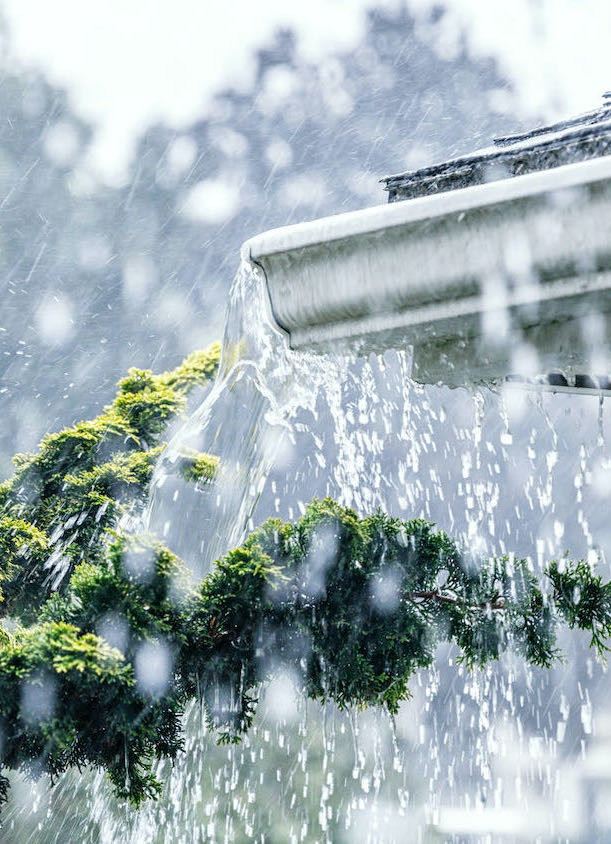 Outside, the rain is pouring down. But wait, why flush one of the most controlled foods down the toilet, use it to mop the floor and do the laundry, or water the plants with it?

Wouldn't it make sense to collect and use the rain that's flowing down the drain right under your nose instead of a foodstuff? And we agree with you: it makes sense and is worth it for you!
In the following section you will learn how to use rainwater thanks to your rainwater harvesting system:
Save costs for drinking water
save costs for rainwater charges
support flood protection
Saving costs for drinking water
Every litre of water that you take from your rainwater cistern instead of from the drinking water mains will not appear on your drinking water meter. Thus, you naturally reduce your costs by using rainwater as an alternative. Assuming that the price of drinking water will continue to rise in the future, this savings potential will tend to increase even more. But how much can you really save?

Of course, this depends in particular on the rainwater yield and the drinking water price you have to pay. On average, €1.66 per cubic metre of drinking water was incurred in Germany in 2019. For a four-person household, this results in an annual savings potential of between approx. 160 - 200 € when using rainwater in the house and garden. The more rainwater you use - for example, due to a particularly large garden that needs to be watered - the more costs you can save.
Saving costs for rainwater charges
Have you ever heard of the precipitation fee? This fee is part of the split sewage fee and in Germany it is between € 0.70 and € 1.90. It is charged annually for every square metre of your garden. You are charged annually for every square metre of surface area that is sealed on your property (minus a development factor).

Surface or soil sealing always occurs when the natural soil is covered by buildings so that precipitation can no longer penetrate and the rain must therefore be discharged into the sewer system. This applies, for example, to roof areas, parking spaces, terraces or paved paths on your property, the total area of which is usually determined by your municipality on the basis of aerial photographs.

In other words, you pay a fee for every drop of rainwater that falls on the roof of your house. Now you are asking yourself how you can save this rainfall charge? The answer: by unsealing!

By ensuring that the rain that falls is no longer fed into the sewage system, you unseal your area and thus save yourself the rainfall charge.

You can do this, for example, with a green roof or by using permeable floor coverings. However, you can also exempt yourself from rainwater charges by allowing the rainwater to seep away. By connecting the overflow of your rainwater cistern to an infiltration system, you can not only save on rainwater fees, but also put the rainwater to good use. In this way, an average single-family house can save about 150 - 200 € per year in rainwater fees.

This is good for your wallet and also very valuable for the environment, as you will soon see.

A (small) contribution to flood protection
A wide variety of measures and strategies are used for flood protection, such as the construction of large rainwater retention basins, the designation of floodplains or the construction of flood embankments and floodwalls as well as other structural measures. One of the causes for the increased occurrence of floods - along with several others - is also seen as the progressive sealing of land.

So now that you have already read the last section carefully, you will surely already be aware of it: This is where you and your rainwater cistern come into play again. Because even if your rainwater tank in the garden may seem vanishingly small compared to a large rainwater retention basin, a large number of these relatively small cisterns can certainly make a contribution to flood protection.
Finding a suitable cistern
However, this contribution is only reliable if your rainwater cistern relieves the sewer system during heavy rain. But when exactly is this the case? If only the overflow of your cistern is connected to the sewer system, it is basically called a pure storage cistern. This can make a small, but not reliable contribution to flood protection.

If the storage cistern is already almost or completely full at the beginning of a heavy rainfall, the rain is simply passed on into the canal. Only if the storage cistern is empty at the beginning of the rain can it contribute to relieving the sewer system.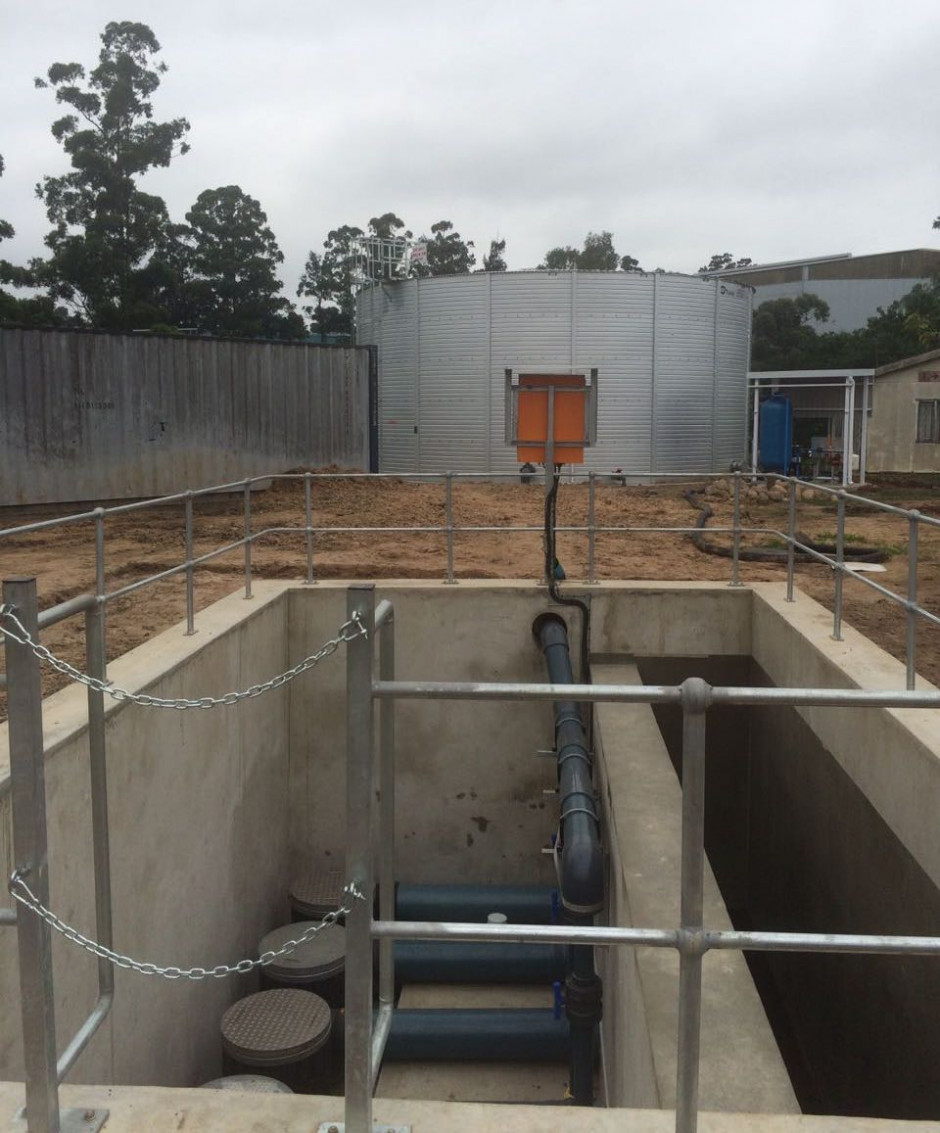 The situation is different if the overflow of your rainwater cistern is connected to an infiltration system. Since in this case the overflowing rainwater does not enter the sewer system, your catchment area is unsealed and the sewers are relieved. But there is another way to support flood protection: The use of retention cisterns. What exactly a cistern is, how it works and what other types of rainwater cisterns there are, you will learn in the next section.

Anyone considering using a cistern will quickly realise: In addition to different cistern volumes, there are also very different types and materials to choose from. So before you buy a cistern, you need to think carefully about which one to choose. It doesn't matter whether you want to use the rainwater in your cistern for the garden or for other purposes in your household.

You should first consider the following questions:

Cistern size: How much rainwater do I have and how much do I need?
Installation: Above or below ground? Is the water table deep enough? What type of soil is available? Is an excavator available?
Accessibility: Can it be walked on or driven over by car/truck?
Type of tank: Shallow tank, complete set or retention cistern?
Choice of material: Concrete or plastic?
Cistern size
In the first step, you should consider how much rainwater you can receive from your catchment area over the course of the year and how much service water you actually need. From the result you can then derive your required cistern volume, whereby the smaller of the two values is decisive for the dimensioning of your cistern.

In most cases you will find cisterns with a capacity of between 500 and 15,000 litres, but significantly larger volumes are also possible without any problems. Likewise, several tanks can be connected to each other and the total volume increased as a result.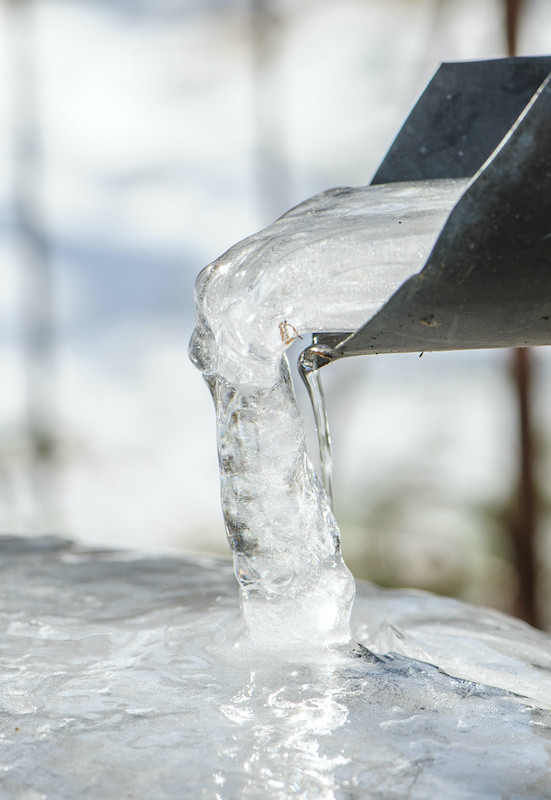 Installation of your cistern
Now that you have determined your required cistern volume, you should take a brief look at the general conditions for the installation of your rainwater cistern. First of all, there is a basic distinction between above-ground and underground installation. While in warmer climates, such as Australia, above-ground tanks are popular, in Central Europe cisterns are largely installed underground. This ensures sufficient frost protection even in cold winters. If you still want to store rainwater above ground, you can find out here how to make your rain barrel frost-proof.

For an underground installation, you should now consider the following questions in advance: Is the installation site far enough away from the nearest building? Is the local groundwater level low enough? To what extent is there a risk of the rainwater storage tank floating up? What type of soil is present and how much does it need to be compacted? What type and how much gravel is to be used as base course or backfill?

The top priority in all these questions is always the stability of your rainwater cistern, which must always be ensured. In addition, your cistern must be installed in such a way that the entry opening of the rainwater tank is easy for you to reach or walk into. Only then will you be able to enjoy your rainwater harvesting system in the long term. You should also consider in advance whether you have the possibility of using an excavator - this will make the installation much easier.

In addition to underground and above-ground installation, it is also possible to install your cistern indoors, e.g. in your cellar. In this case, however, you are naturally limited in terms of cistern volume and the tightness of all connections must be ensured to a special degree by the installing company. In this case, you can also combine several rainwater storage tanks into larger units using a rainwater storage tank connection set.
Trafficability of cisterns
Next, you need to decide whether your rainwater cistern should be trafficable or not. Which load is possible depends in particular on:
Type of tank
Cover
Depth and type of soil
If the cistern is intended to be underground in your garden, simple accessibility is perfectly sufficient in most cases. However, as soon as a car or other heavy equipment could drive over it, the cistern should be designed for a load of up to 30 tonnes. Trucks can also drive over your cistern, but then the load should be designed for up to 60 tonnes.

All of these conditions ultimately influence the type of tank to be chosen, some of which we will look at in the following section.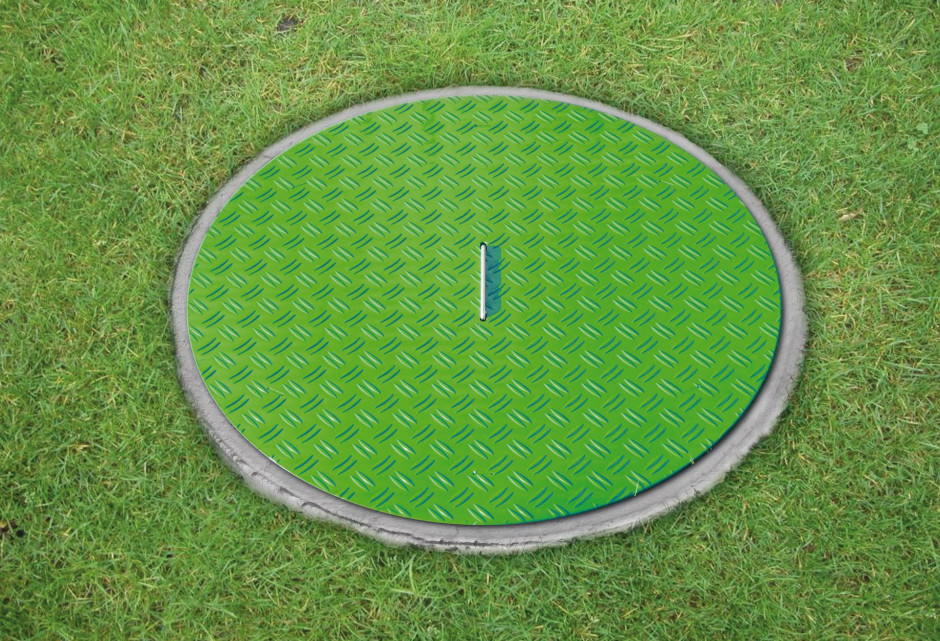 The flat tank
Basically, there are different types of tanks that can be considered for your cistern in the garden. One of the main distinguishing features is whether the cistern is a flat tank or not. A shallow rainwater tank offers you the advantage that the installation depth is significantly less and you are therefore not necessarily dependent on an excavator for the excavation that is required - even if it does, of course, make your work much easier. A rainwater flat tank is therefore ideal for applications where there is a lot of space in the area and a deep installation is not possible or not desired. There is also the option of storing your rainwater above ground in a flat tank. These tanks can be installed directly on your house wall, for example.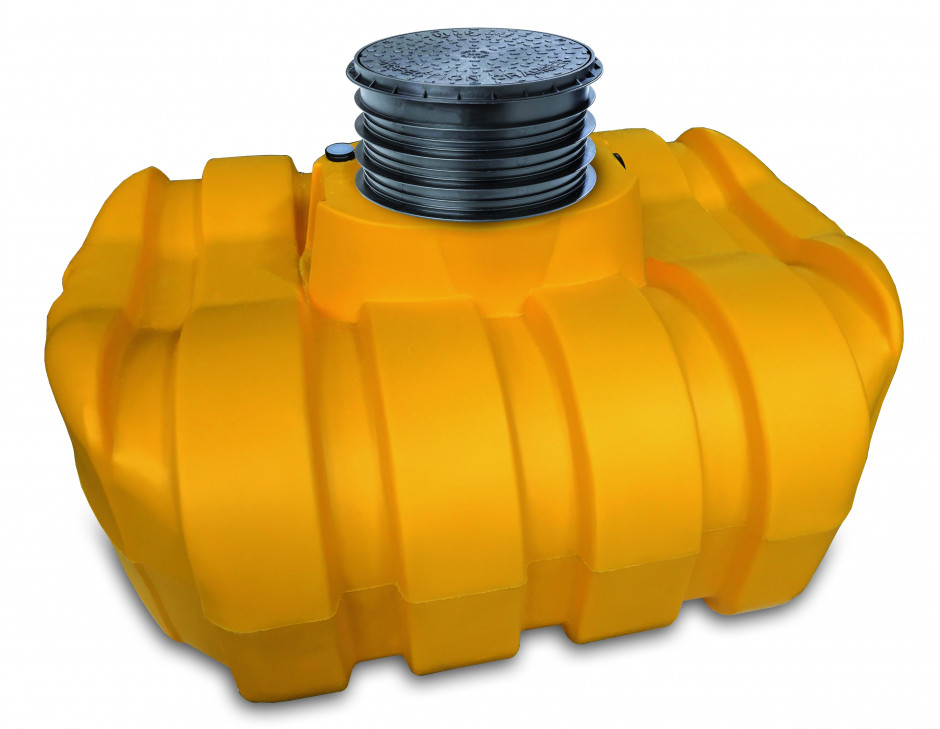 The complete cistern set
You would like to install a rainwater harvesting system at home, but don't want to pick out all the individual parts you need yourself? No problem! That's exactly why there are complete cistern sets.

All you have to do is select a rainwater storage tank with the desired equipment and a rainwater system as a control unit, and not only will the rainwater cistern be delivered to your home, but also a complete system.

In addition to the water cistern, the following components of the 4-step purification system are included in the complete package:
the inlet calming system, which slowly feeds the rainwater into the cistern and thus prevents the sediment layer from being whirled up, thus enabling the important sedimentation to take place continuously
the floating abstraction, which always takes the rainwater only from the cleanest water layer
the overflow siphon, which allows rainwater to overflow from the tank and prevents the formation of a barrier layer by transporting light particles away from the water surface
Also included:
The rainwater pump, which transports the rainwater to the desired extraction point.
Automatic drinking water replenishment if there is no longer enough rainwater in your cistern.
Your installation company will then provide the appropriate connection pipes and hoses on site and your rainwater harvesting system is ready for use.
Retention cisterns
With a retention cistern, you can make your contribution to local flood protection. It retains precipitation and releases it into the sewage system only after a time delay. This relieves the sewer system, as it has more time to process the high volume of water.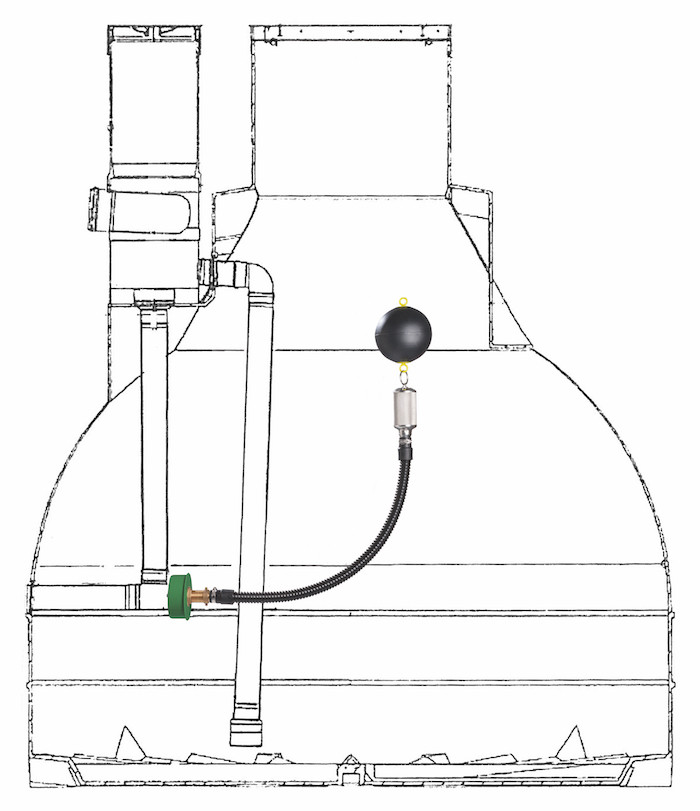 A retention cistern with simultaneous garden use is also possible, so that the rainwater is available for irrigation or other household applications. In this case, the rainwater cistern is divided into a retention volume and a use volume.

While rainwater from the retention volume is slowly fed into the sewer via a retention throttle, the usable volume below is completely available for use. As with conventional cisterns, there are different types of tanks, so that a rainwater tank that is shallow and built underground can also be considered as a retention cistern.
A cistern made of plastic or concrete?
Whether round or flat tank, small cistern for the garden or large storage tank for industrial applications: As you can see, there are clear differences in the type of tank and the storage volume of rainwater cisterns.

Another important distinction is the choice of material. Here you can choose between a cistern made of concrete and a cistern made of plastic. These two materials are often used in practice, but corrosion-resistant steel can also be used. Optimally, the collected rainwater is stored in a cistern below the ground surface. There, at the heart of the rainwater harvesting system, it is protected from light and frost and large storage volumes can also be realised.
Concrete rainwater cistern
A concrete rainwater cistern is stable, but its heavy weight means that it requires more effort to transport and install. For this reason, large concrete rainwater cisterns in particular are often manufactured regionally or directly on site. They are made of a relatively natural raw material and allow completely harmless rainwater use in the house, even if the rainwater stands for a long time.

The alkaline concrete reacts with the slightly acidic rainwater and can thus neutralise the acid. This somewhat counteracts the corrosive effect of the rainwater. This makes the material ideal for your water cistern in the garden. Concrete cisterns are often produced as round tanks, but flat rainwater tanks or angular cisterns are also possible made of concrete.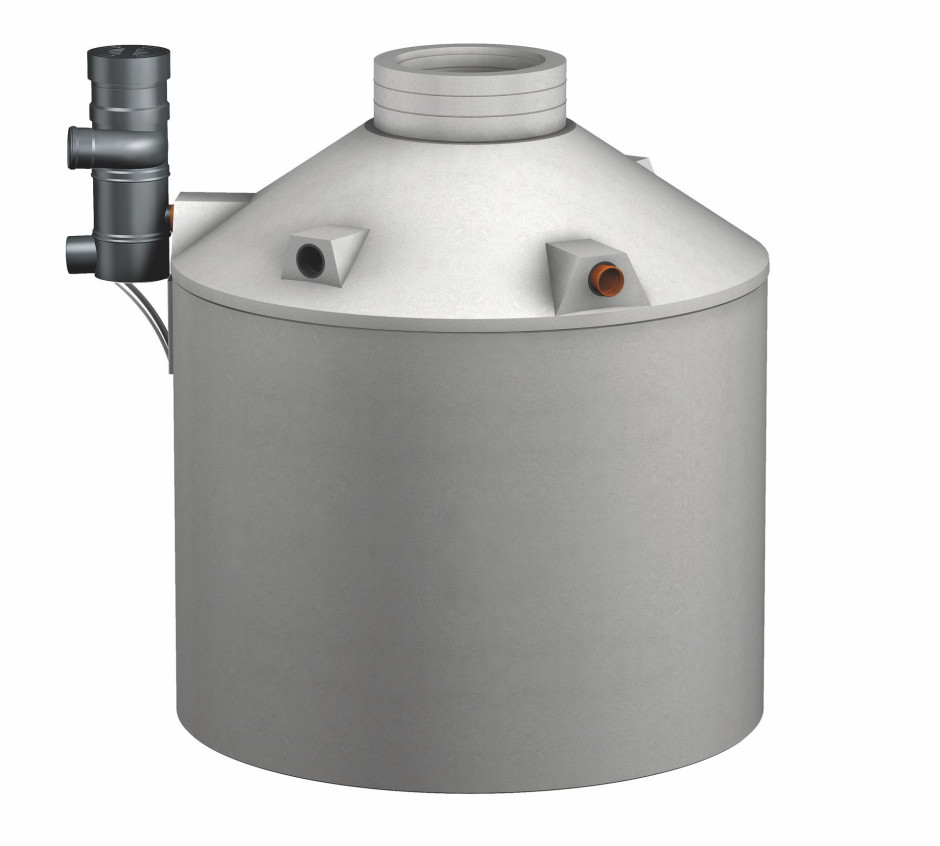 Plastic rainwater cistern
Water cisterns made of plastic have the advantage that it is difficult for dirt to accumulate on the smooth inner walls when you use rainwater. Both polyethylene (PE) and polypropylene (PP) can be used as materials for rainwater cisterns, but also glass-fibre reinforced plastics.

Another advantage is that no heavy equipment is needed to transport and move plastic tanks; a construction crane is usually sufficient. Delivery can be made in a car trailer. Rainwater cisterns with a capacity of about 5000 litres, such as the WISY rainwater storage tank, are frequently used for private purposes.