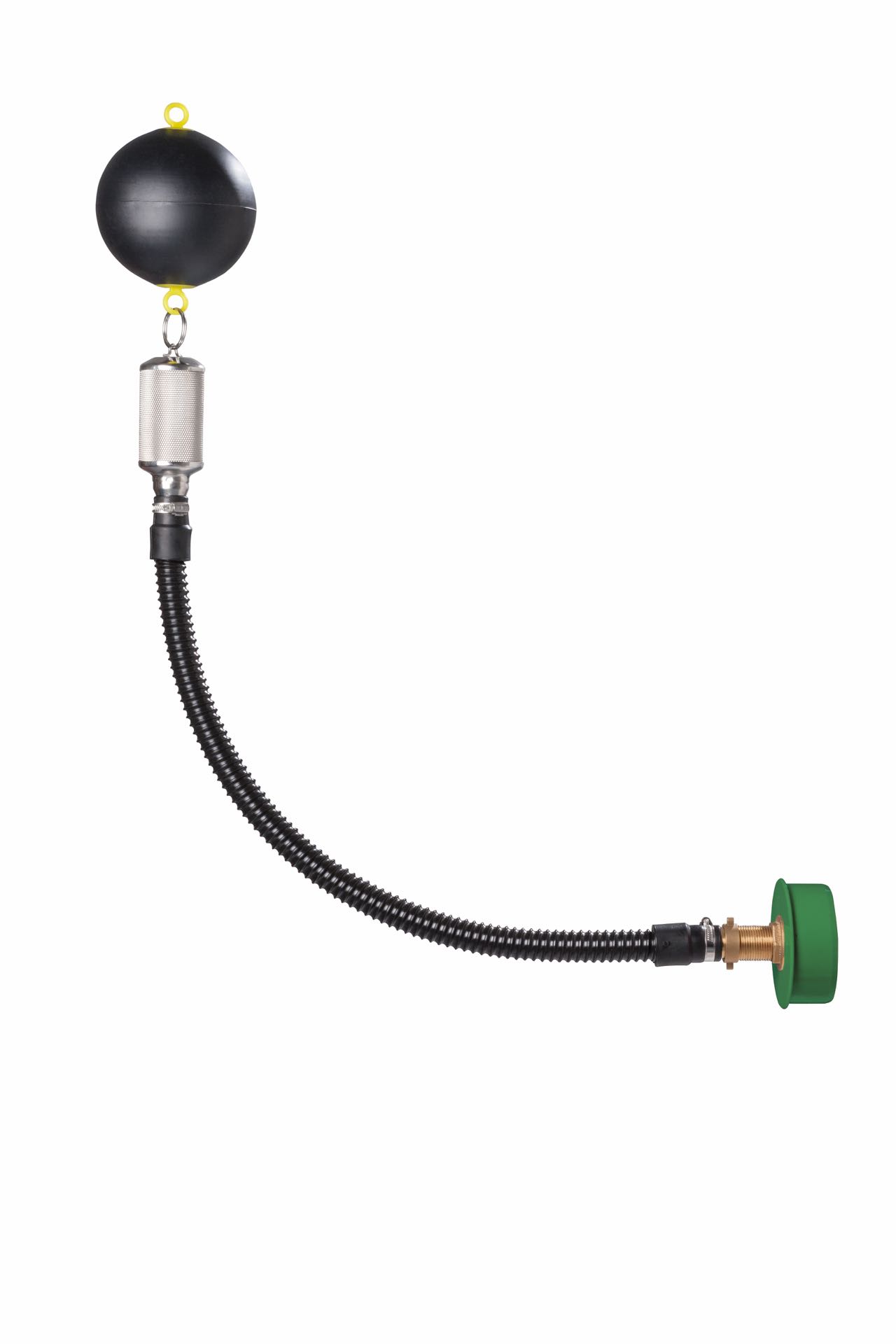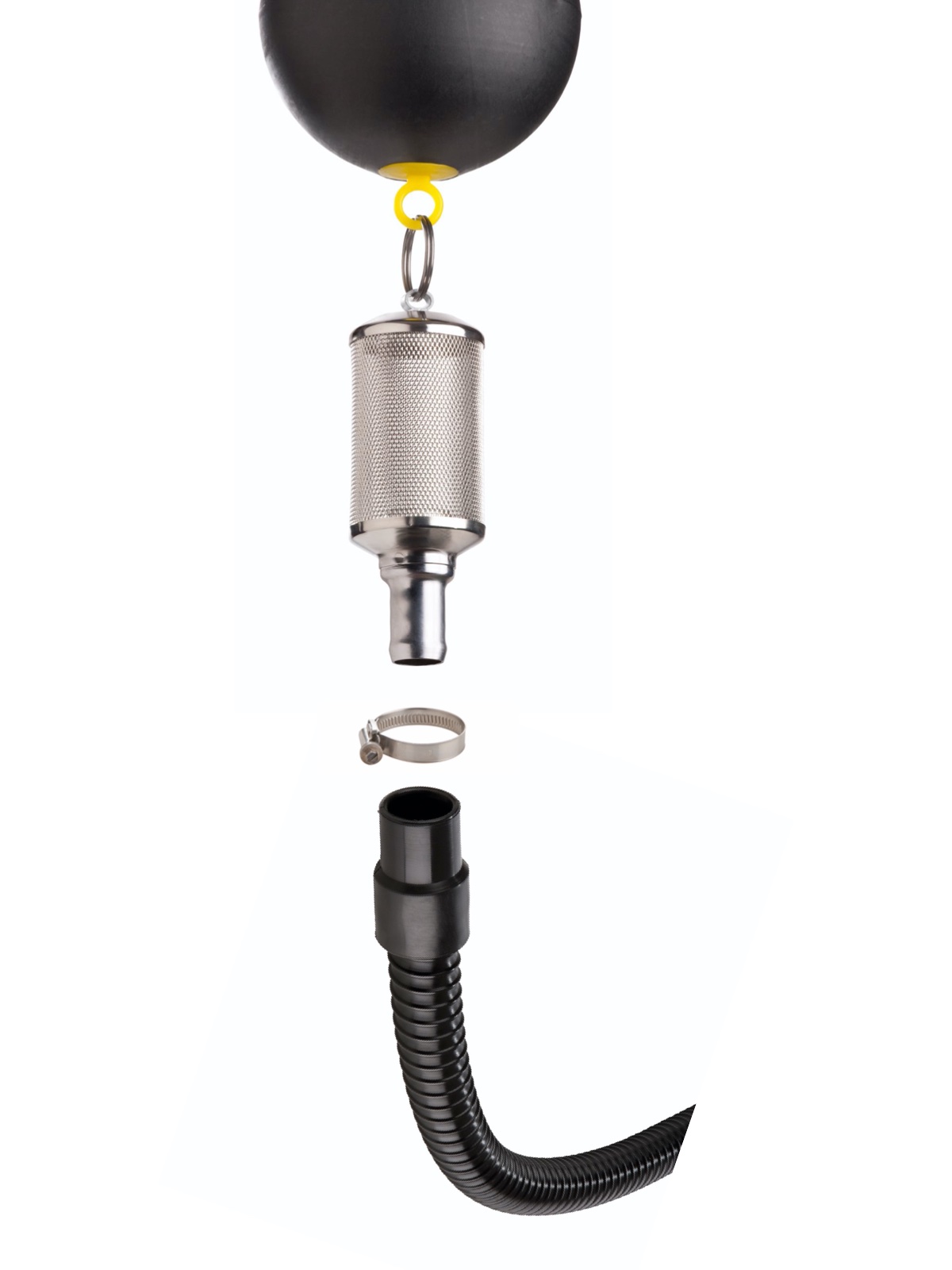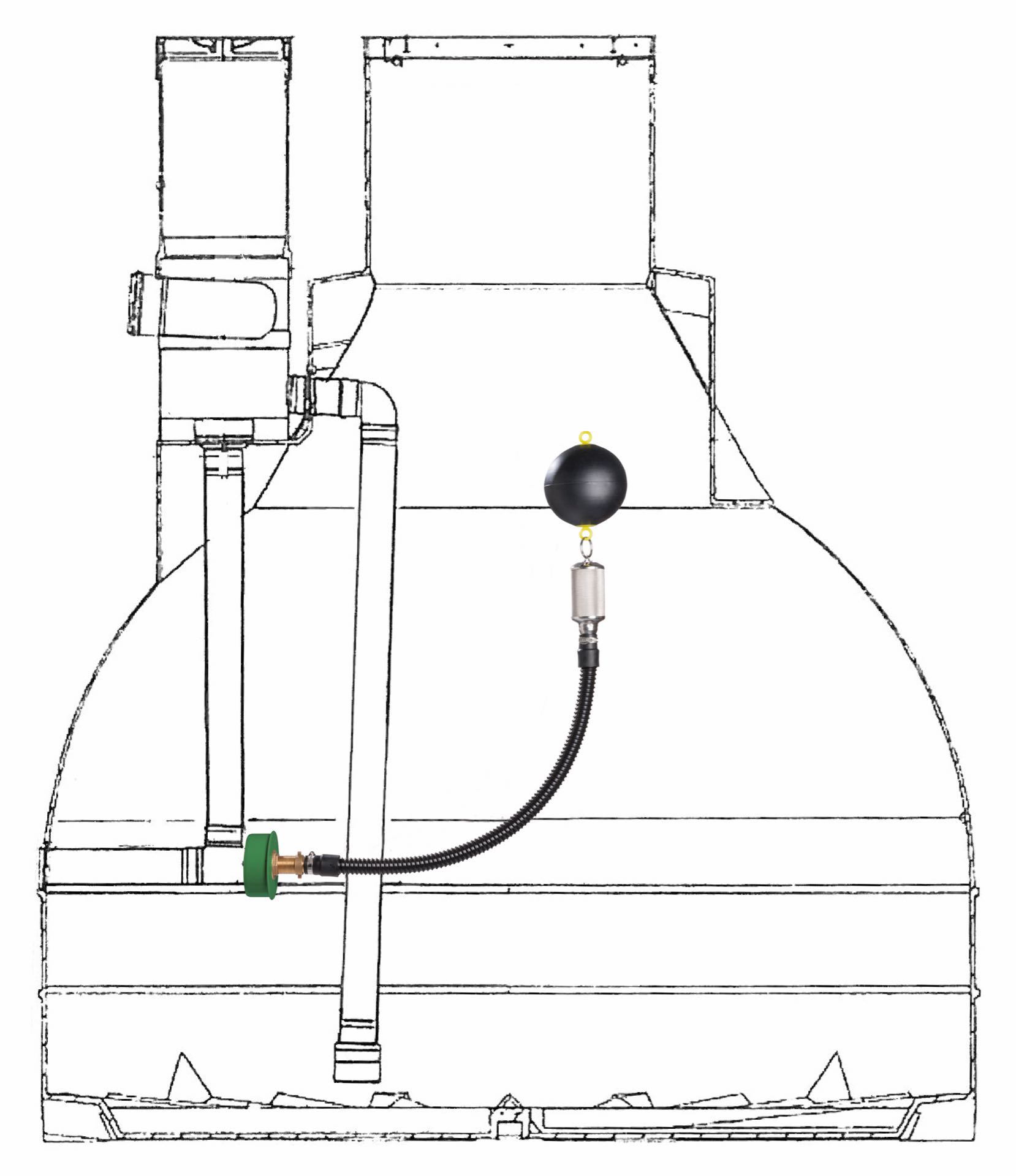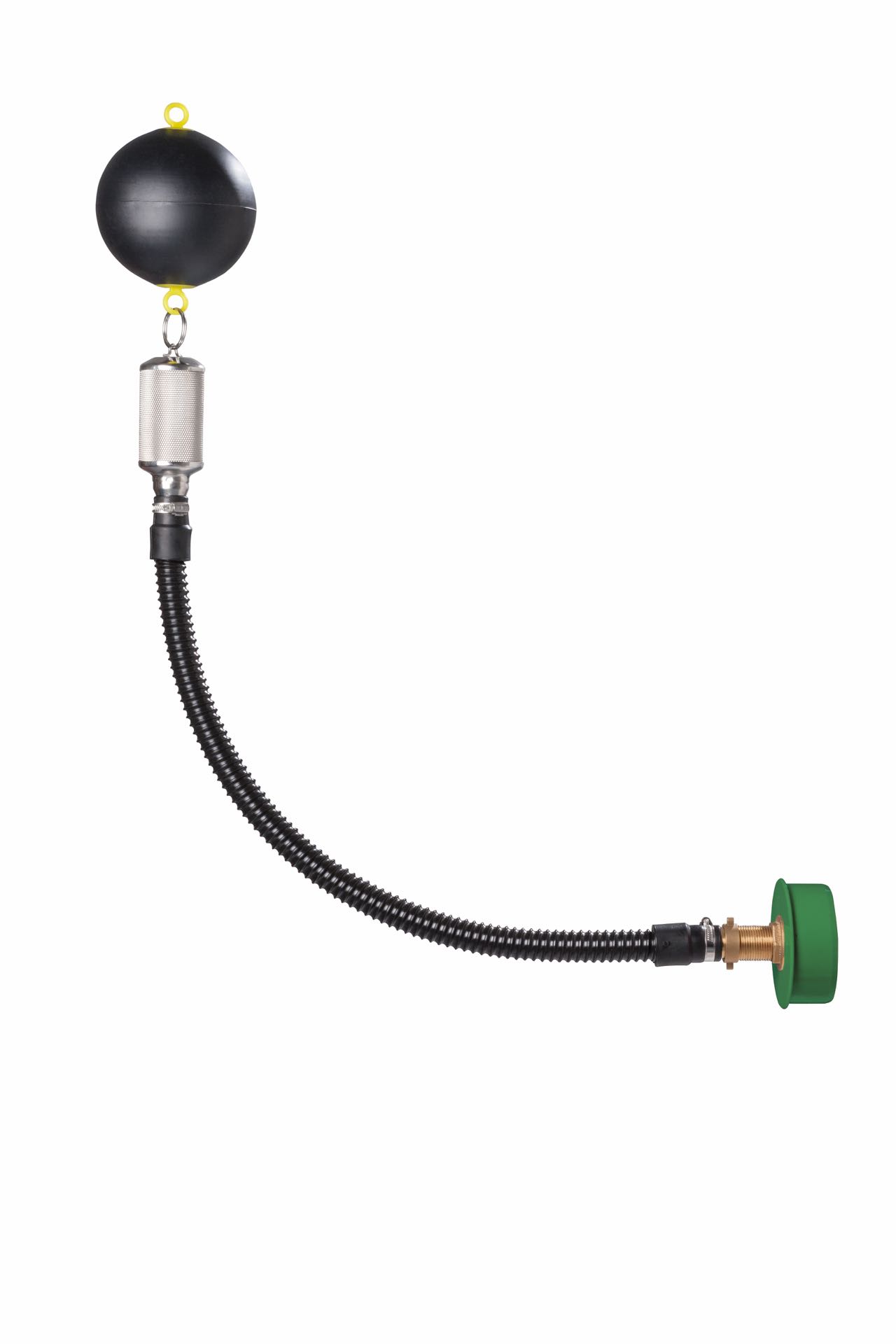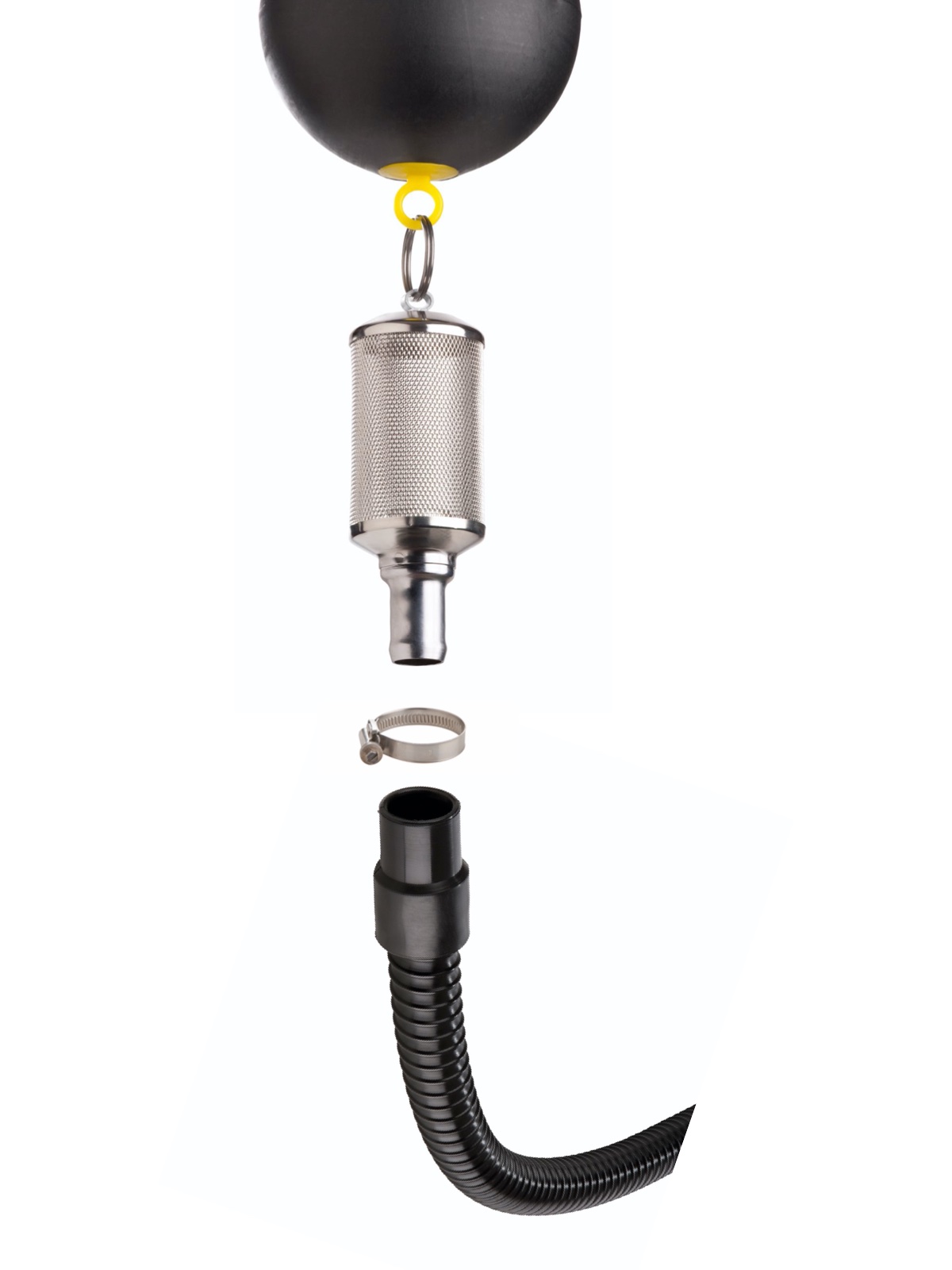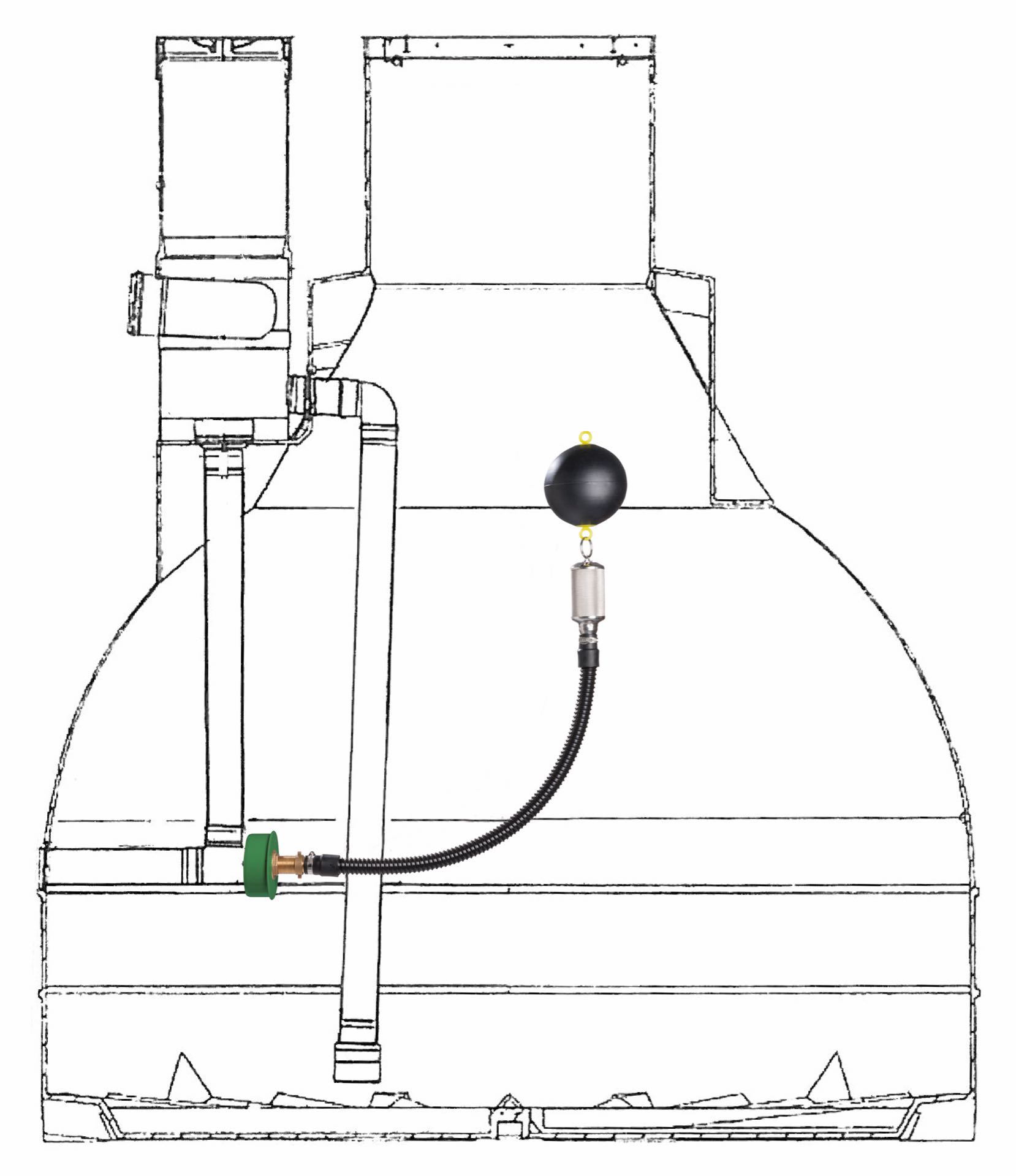 Retention regulator
Delayed drainage of precipitation water into the sewer

retention throttle with floating ball

functional safety due to coarse filter made of stainless steel

flexible special hose with steel insert

continuous discharge volume, selectable from 58 to 3,780 litres/hour
Available, delivery time: 2-5 days
The retention regulator is intended for installation in cisterns to control the amount of water draining into the canal. Freely suspended from the floating ball is the inlet filter . This ensures that the downstream pipes and lines are always free of blockages and that the water can flow off in the specified quantity.

The flexible connection hose adapts to the respective water level. The material is chosen so that the hose remains permanently flexible without cracking due to the up and down movement. The outflowing water is then discharged into the sewer system through a KG socket plug DN 110.

Retention regulator with:
Floating ball (150 cm diameter)
Stainless steel ring
SAGF 1" spout
1m flexible suction hose 1"
2x hose clamp 1"
2/3 hose fitting
flat sealing
Grommet 1" and 1" ÜM
Container screw connection and nut 1"
inserted baffle plate
End cap KGM 110 x 3
The WISY retention throttle is suitable for various flow rates.
The payment is uncomplicated in our store! You can find detailed info about payment and shipping here. We offer the following payment methods:
Ships Worldwide
FREE DOMESTIC SHIPPING
Once your order is placed, you will receive a confirmation email letting you know that our fulfillment team has received your order. Once your order is fulfilled, you will receive an email notification with your tracking information. Shipping fees are non-refundable in the case of returns. We ship with:

| Ø orifice (mm) | Article number |
| --- | --- |
| 3 | RD 2003 |
| 5 | RD 2005 |
| 6 | RD 2006 |
| 8 | RD 2008 |
| 10 | RD 2010 |
| 12 | RD 2012 |
| 13 | RD 2013 |
| 16 | RD 2016 |
| 18 | RD 2018 |
| 20 | RD 2020 |
| 22 | RD 2022 |
| 24 | RD 2024 |
| Ø Flow limiter (mm) | Litres / sec. | Litres / min. | litres / h |
| --- | --- | --- | --- |
| 3 | 0,016 | 0,97 | 58 |
| 5 | 0,044 | 2,61 | 157 |
| 6 | 0,057 | 3,43 | 206/td> |
| 8 | 0,087 | 5,22 | 313 |
| 10 | 0,133 | 8,0 | 480 |
| 12 | 0,22 | 13 | 780 |
| 13 | 0,28 | 17 | 1020 |
| 16 | 0,38 | 23 | 1380 |
| 18 | 0,50 | 30 | 1800 |
| 20 | 0,67 | 41 | 2400 |
| 22 | 0,85 | 52 | 3060 |
| 24 | 1,05 | 63 | 3780 |
Field of application & images