Decalcify irrigation water: We explain how!
Adrian Maurer
·
Last updated: 01.06.2023
Garden tips | Garden maintenance
·
5 min. reading duration
When watering plants, the quality of the water is a crucial factor, especially if the water contains lime. For example, did you know that lime can inhibit plant growth and make the soil acidic. To counteract this problem, we offer solutions to decalcify the calcareous water and thus obtain water that is low in lime. In this article we will explain how you can soften your water and what options there are to decalcify water containing lime.
The path of water through the plant
Water plays a crucial role in plant development and is essential for plant survival. Plants take up water through their roots, which can penetrate the soil and absorb water from various sources such as groundwater, tap water or rainwater. It is important to note that water not only provides moisture to the soil, but is also responsible for supplying the plant with nutrients and minerals.
Distilled water can be useful for plants as it is free of minerals and impurities. However, it is important to note that plants also need nutrients and minerals that are normally found in water. Therefore, distilled water should not be used exclusively for watering plants.
If the water used for watering plants contains lime, it may be useful to decalcify the water to prevent damage to the plants. This can be achieved by various methods such as using water softeners or adding acids such as vinegar or citric acid.
It is important to understand that the path of water through the plant is a complex process, ranging from root uptake to transpiration through the leaves. Water plays a crucial role in photosynthesis and nutrient uptake by the plant and therefore cannot be neglected. By watering properly and using appropriate water, you can ensure that your plants stay healthy and strong
What is lime water?
Lime water is water that contains high concentrations of calcium and magnesium ions and is therefore called hard water. When hard water is used to water plants, it can cause limescale to build up in the soil and on the roots of the plants, which can affect their growth. It is therefore important to reduce the water hardness or descale the watering water before using it to water plants.
The Optimum Water Hardness for Garden Plants
The optimum water hardness for garden plants depends on various factors, such as:
the soil type
the type of plant
the pH value of the soil
the irrigation method
In general, most plants prefer a slightly acid soil condition with a water hardness between 8 and 12 °dH. Too high a water hardness can cause salts and minerals to accumulate in the soil and thus impair plant growth. It is therefore important that the water hardness of the irrigation water remains in an optimal range to ensure that the plants can absorb sufficient nutrients.
Note: A water hardness between 8 and 12 °dH is ideal for your plants in the home and garden.
Determining water hardness
The fee is usually calculated based on a percentage of the wastewater fee. The wastewater charge itself is often calculated on the basis of drinking water consumption, as it is assumed that higher water consumption usually leads to higher wastewater production.
There are various methods for measuring water hardness at home. You are probably familiar with test strips. These test strips or special test kits are available in shops. The degree of hardness of water is usually given in German hardness degrees(°dH).
How to get lime-free water
Do you want limescale-free water for your plants and your household? There are various methods to reduce or remove limescale deposits in the water. Below we explain methods in detail that will show you how you can improve your water quality in the future.
Desalinating water
There are several ways to desalinate and soften irrigation water. One way is to decalcify the water, which removes minerals such as calcium and magnesium ions from the calciferous water. This softens the water and makes it easier for the plants to absorb.
If you want to decalcify flower water, you can use special decalcification products that soften the water and make it more suitable for your plants. Salts and minerals are thus removed
Note: Decalcification products for irrigation water can be found in DIY stores, garden centres or online.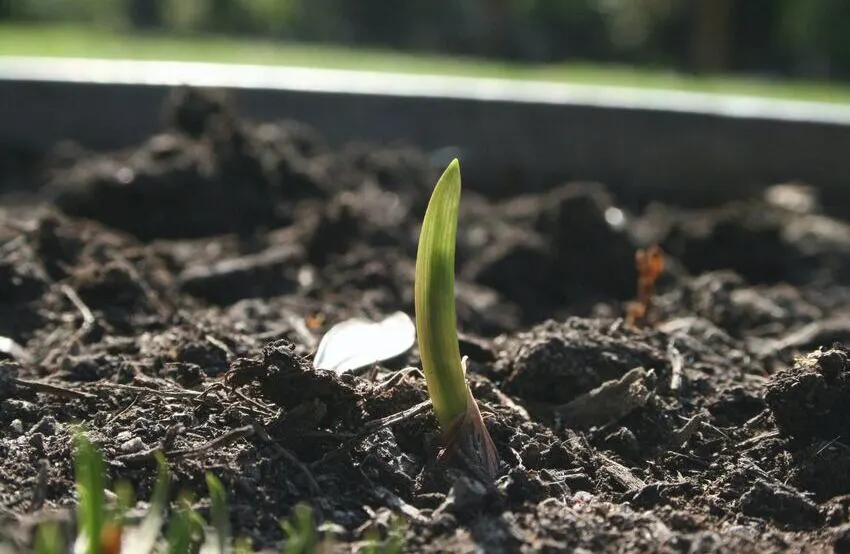 Heating water for watering
Heating water is a simple and natural way to rid it of limescale and make it suitable for plants. The water should be heated to at least 60 degrees Celsius to precipitate the limescale. The duration depends on the amount of water and the heating power, but in general the water should be heated for at least 10 minutes. This method is particularly suitable for small amounts of watering water.
It should be noted, however, that heating does not chemically decalcify the water, but only precipitates the limescale. If the water is very hard, heating alone may not be sufficient to remove all limescale.
Caution: Boiling can cause certain minerals in the water to be lost, which can make the water less nutritious for plants.
Overall, heating and boiling water is mainly suitable for small amounts of watering water. If larger quantities are needed or the water is very hard, alternative decalcification methods should be considered.
Filtering lime from water
There are various filters that can be used to remove lime from water and thus decalcify the irrigation water. One example is the so-called ion exchange filter, which softens the water by exchanging calcium and magnesium ions(which make the water hard) for sodium ions. Another type of filter is the so-called reverse osmosis filter, which uses a semi-permeable membrane filter to remove minerals and other pollutants from the water.
The process of filtering
The process of decalcifying using a filter is relatively simple. The water containing lime is filled into the filter and pressed through the membrane. This removes the lime particles from the water and the filtered water is then collected. The cost of such filters can vary, depending on the type and size of the filter. However, there are also inexpensive options on the market.
Before buying a filter, one should be aware of what kind of limescale is present in the water. This is because there are different types of limescale deposits that require different methods of removal. In addition, one should consider the size of the filter and the flow rate to ensure that the filter is adequately sized for the needs of the garden and plants. Most filters are easy to install and do not require any special prior knowledge or tools.
Lower water pH
Those who use well water are often aware of its high water hardness and alkaline pH. To improve the water quality, there are several methods to soften the water and lower the pH. Curious? Then stay tuned:
Lowering the pH with vinegar
Vinegar is one way to lower the pH of watering water, making it more suitable for plants. As a home remedy, it is particularly suitable for smaller amounts of watering water, as larger amounts of vinegar can over-acidify the soil and are not environmentally friendly.
A typical amount of vinegar for lowering pH is about 1 teaspoon of vinegar to 5 litres of water.
However, it should be noted that vinegar is an aggressive acid and therefore not suitable for all plants. It is also important to check the pH of the water after adding vinegar to ensure that it is in the optimal range for the plants in question.
Note: Don't feel like vinegar? There are other home remedies to lower the pH of water, such as peat or citric acid.
Lowering the pH with pine needles
You hear right. Pine needles can actually be used to lower the pH of hard water. To do this, you need a large quantity of pine needles, which are placed in a container of water.
The needles release tannins that can lower the pH value. However, it should be noted that this method is only suitable for smaller amounts of water and may not be as effective as other decalcification methods.
Fir needles can be collected in the forest, for example. Whether this method is useful and produces desired results depends on the individual needs of the plant species.